I barely pulled myself out from under the covers this morning. I was having one of those nekkid dreams that
Runner Susan
likes. I had less than 50 minutes to dress, eat, pack, drop off the pack, drive and take pictures of the holiday lights in morning fog before the Park Avenue gang was off and running.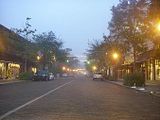 I stopped right in the middle of the street to take the pictures. Fortunately, at 700, there're few people out on a Sunday morning.
As I pulled up to the curb, my group was taking off without me. I quickly threw my keys under the floor mat, shut the door and took off after them, about a quarter of a mile behind. By the first mile, I had caught up without too much effort.
Swifty Dan was jogging along with my gang. A pair of ultra swifties ran past in the third mile and I challenged Dan to go off with them. He let the temptation pass which is not to say I let the temptation pass when he and I started chatting with Ed and finding ourselves way ahead of Chris, Jack and Marty. We were hoofing it hard to the four mile water stop.
While Ed and I waited for the slowpokes, Swifty Dan was impatient and took off ahead of us. Phew. Wipe out averted.
We all kept going and everybody turned short for six miles except Chris. He and I went on to do the full loop of 10 miles. When we got back to Park Avenue I told him I wanted to go 12 so we started the route over, going out a mile then me doubling back. Chris kept going, on to home.
What I love about the finish, going down Park Avenue at 900, is that the "early risers" who aren't runners can be seen having breakfast and reading the Sentinel or NY Times at their sidewalk tables chomping on a bagel or stack of pancakes. Yes. The beautiful people. Yes. I speed on by, feeling a rush.
Today I had intentions of stretching after my run, changing clothes and heading up to one of the cafes and having some beautiful people time myself. In fact, I swear I saw a triplet sister of
Runner Susan
.
Alas, I had locked my car keys in the car.
Now, before Thanksgiving this would have been an expensive moment. Fortunately, when son T came home then, I pulled open a little pocket drawer on "our" car and I found a spare key. Until then, none existed as best we knew.
So today, I knew where the spare was - next to son T's pillow back home so I had to run home for an extra 2 miles. I was up for it and made it fine. My time for the whole run was a respectable 2:10, a 9:38 pace.
I just missed out on the beautiful breakfast.
Oh ... and here's a little cadet porn, so to speak. Every year just before final exams and winter break they have a holiday dinner in their dress greys and fire up cigars afterwards. It usually results in a trip to the dry cleaners immediately thereafter.