Running.
I ran Thursday morning for four miles. It felt good once I warmed up. I was surprised to find my right knee still hurts a little when I run; at least when I started running. By two miles it was reasonably pain-free. And I shouldn't call it pain either so let's just say that the odd feelings in my right knee are not invisible to my senses.
I plan to go for 8-10 tomorrow (Sunday) really easy-like. If it goes well I will start speed work on Tuesday and tempos next Thursday and prep for the Turkey Trot 5K and Dec. 2 half marathon.
Racing.
You'll remember both my boys ran high school cross country. They've graduated but I haven't. I "adopted" a friend's son (11th grade) and daughter (9th grade) to keep my interest personal.
Today were the state championship finals. My friend and I left the house at 600 and drove 90 minutes to Little Everglades Ranch in the middle of rural west Central Florida. The ranch is 2000 acres of rolling hills and oak trees. On the ranch they race horses on a track that has the contours of the region: a few slopes and hills. It was a beautiful place with a specatator grandstand with terraced levels for viewing and an elevated porch right at the finish line.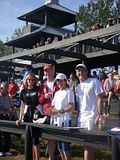 You could see the entire course from up there....
....if you could see it at all. From the first race at 800 you could barely see the track in front of you because of the morning fog.
The gun sounded about 800 meters away but it took a minute before you could see them coming. For that first race we had no idea how nice the track looked. The Winter Park girls finished 5th which was up from 11th last year at States.
The boys' race was at 900. By then the fog had burned off and you could see everything. The championship was up for grabs among five or six teams including Winter Park. They finished first in districts but third in regionals earlier this month and last. My friend's son was an alternate so did not run.
The starting seven got out strong and stayed in a pack through two miles. Six of them were in the top forty-five runners. The finish stretch was an uphill killer. Our #1 came through the 5K in 16:53. Our next five came in at 17:00, 17:03, 17:04, 17:04 and 17:08. They finished smartly and scored 150 points.
The margin of difference between first and second was four points. The team stood off in a field waiting for the coach to come tell them the results. They were confident and hopeful. He walked towards them holding up four fingers. We watched from a distance thinking at first they finished fourth. Then when they didn't hang their heads but kept listening intently to their coach, we thought maybe they missed winning by four points.

Then you saw the most heart-warming fist-clenching jubilant celebration ever as he told them they'd won by four points. The scene was incredible. Parents, teammates and other runners ran over and were hugging, high fiving and screaming with joy. It was worth the trip over, that's for sure.

This was the fifth state championship for our high school in six years. From 2001-2004 they won back-to-back-to-back-to-back championships. Last year, because of some injuries, they didn't even make it to States. When they took the podium to receive their medals, trophy and applause they stood proudly; and on cue, turned around to show their backs, keeping their trophy facing forward. Coach had planned ahead to deliver a message he believed was appropriate if his boys could pull off the win: "Remember Us"


A question and a statement. Oh yeah! See all the pictures here.

The parade is at 200 tomorrow afternoon. It is an unofficial unsanctioned cacophony of horn- honking cars that drive all the streets and boulevards of Winter Park that have eaten so much of the synthetic soles of these kids' running shoes for the last six months. It started in June with more than 40 of them putting in 500 mile summers plus the rigorous in-season training and races.

They ran in the Manhattan Invitational up in New York last month and found their stride. It all counted today and they were ready. They won it all.

Go Park.